Kalkatraz Cassettes Presents Mats Erlandsson / Sonja Tofik / DmK
Tid: 20.00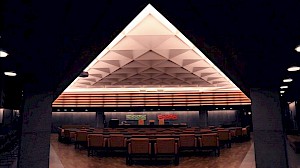 Kalkatraz Cassettes invites you to the release party of
KTC010 Mats Erlandsson - De Förtroendevalda [The Electees],
a c50 tape with music from the performance piece with the same name by Poste Restante, directed by Erik Berg.

The Electees exposes the paradox emerging when orienting in-between personal conviction and democratic systems. In a municipal council chamber, the audience is invited to follow the choreography of a council meeting via personal instructions through a loopset. The situation is emptied of all its original contents, affiliations and words, leaving only its empty gestures, the room and the music by Mats Erlandsson. The work serves as a projection surface for the audience's own ethical dilemmas in questions of power, desire, responsebilitby and participation.

This will be the first (and probably last) time to listen to this music performed live, so don't miss out!
The performance piece will not be performed.

Live:
Mats Erlandsson
Sonja Tofik
DJ:
Daniel M Karlsson

Music
/Mats Erlandsson/
As a composer, musician and sound artist, Mats Erlandsson is part of the vibrantly reemerging field of drone music in Stockholm, and is associated with practices characterized by the extensive use of sustained sound.

/Sonja Tofik/
Member of the Stockholm collective Drömfakulteten, Sonja Tofik released her debut album Neuros via Moloton in 2017.
Through intimate and subdued synth music, echoing of noise, melancholic folk songs and organ harmonies, Tofik creates a realm of sonic shadows.

/Daniel M Karlsson/
A ritual exorcism of popular culture.
A routine of sorts where referentiality and recognisability give way to transformation and deprogramming.

Distro
/Ambitious Tapes/
/H. Söderström / Labelless Resistance/
/Kalkatraz Cassettes/
/Moloton/
/Xkatedral/


When - The 11th of October 2018
Where - Resturang Landet, T:Bana Telefonplan
What - Release Party + Distro
How - 60kr at the door. Bar takes cards, but for anything else (including the door) you'll need cash or swish!